Quick Restaurant
Quick Restaurant is a flexible website template that can be used for a single restaurant or multiple site restaurant chain. It can be scaled up or down, depending upon the size of the business and a quick turnaround from concept to launch lowers the development costs without sacrificing on quality, features or flexibility.
Who can use it?
A brand new restaurant that is starting up and needs a new website creating from scratch.
An existing restaurant that has seen an opportunity in a different location so is looking to duplicate their existing restaurant format.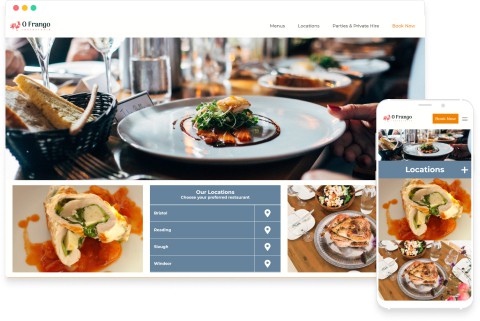 An existing restaurant that need additional functionality, such as:-
Needs online ordering to offer delivery/collection as it has not traditionally offered takeaway before.
Needs to be able to take table bookings
These templates could also be utilised by pub and bar owners who are moving to table service/seated table bookings only due to ongoing Covid restrictions and need a website to showcase their drinks menu/offering as well as taking bookings.
An existing restaurant that needs to re-brand or refresh their website
Sites that are using this template
We have worked for some of the largest players in the UK Casual Dining sector, and have used all of our experience to create two fantastically flexible and attractive templates

Built in 8 weeks it has allowed the restaurant chain to offer collection and delivery on mobile and desktop. It is helping to transform the fortunes of the business
Built in 8 weeks it has allowed the restaurant chain to offer collection and delivery on mobile and desktop. It is helping to transform the fortunes of the business
---
Want to find out more? Request a free demo